We are Davor Jelacic & Rebeca "Becky" Sánchez, a duo of producer and a classically trained violinist, also multi-instrumentalist. In Spain, where we reside, we record violin covers in our home studio, and shoot music videos to share them on YouTube!
We met back in 2007 in an online RPG game, and our love for music and videogames is what brought us closer together. Becky, in Venezuela, and Davor, in Bosnia-Herzegovina, chatted daily for about 2 years before traveling across the world to meet each other in real life. After that day, we joined our talents in music to create covers and different versions of songs from all kinds of genres (classical crossover, electronica, pop, video games and movie soundtracks… you name it!), combining multiple instruments in our music and putting our own spin on the composers work, while making it our own.
Our -very detailed- story
We met back in 2007 in an online RPG game called "Lineage II", and here's how it all started:
While playing in a private (non-official) server (Dragon-Network, we think it was called?). Becky was checking the game server user forums one day because the game was down and nobody could access it.
So after checking on a bunch of threads from people talking nonsense, Becky found a post from Davor recruiting people for his clan (guild, group…) and decided to join him because he seemed like a nice guy!  
After joining his clan, one day we were in the middle of killing a "group boss" (for any of you who don't play video games, it's some sort of big monster that you have to slay with about 10 people on your group), and she had to go for orchestra rehearsal, so it was only polite to tell him that she really couldn't stay because of violin practice. Since Davor liked music too (he used to compose electronic music on his computer and DJ), next time Becky logged in-game he asked her about that "violin playing of hers". After that, we started chatting regularly in-game everyday, mostly about music, until we moved our conversations to MSN (Messenger, old people's way of communicating back then).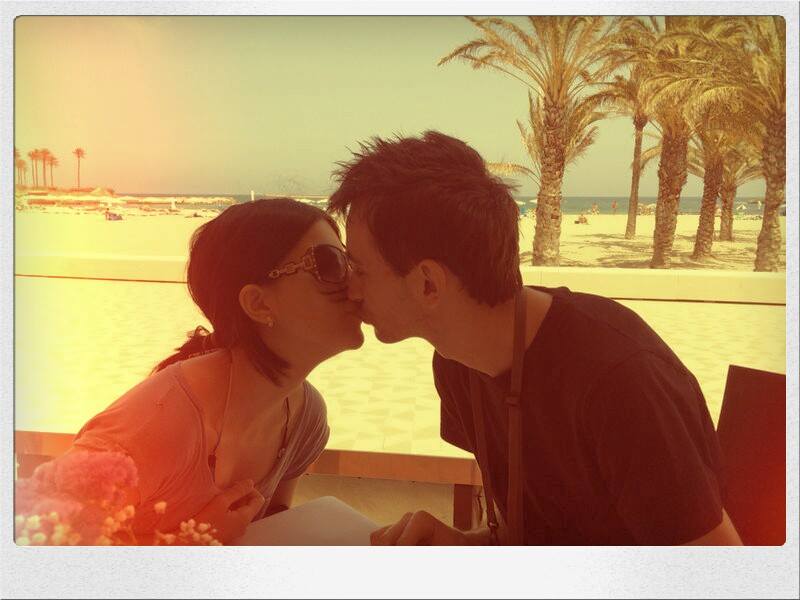 After some weeks of daily chat, we realized we had a lot in common except, well… our countries. She lived in Venezuela, on a small island called "Margarita", while he lived in a town in Bosnia-Herzegovina called "Lukavac". Neither of us even heard the other's hometown name before, and to make matters worse there is no Bosnian embassy in Venezuela, and no Venezuelan embassy in Bosnia!
After weeks, months and years (2 years, to be precise) it all started to feel more like a "dream" that could never come true. We would chat and video call almost everyday (although Becky was so ashamed of her English pronunciation that she wouldn't say a peep, only write), and it felt like we were best friends, confidants. On the bright side, we both had double citizenship (him Croatian, and her Spanish), and Venezuela-Croatia / Bosnia-Spain had diplomatic relations, so we finally found a workaround for Davor to come Venezuela to visit!
After Davor returned home, it was Becky's turn to visit his place, and after some months we decided it was time to take the next step!
We got married on March 20, 2010 in a small ceremony on a castle in Becky's island next to the beach.
After that, the three of us moved to Bosnia (yes, we are counting Geisha, our little Yorkshire terrier) and lived there for 3 years. We started working on events and weddings, but things weren't great, because the type of music we did wasn't well received there.
Around the year 2011 we started using an old YouTube personal channel for posting random videos to promote our event violin services.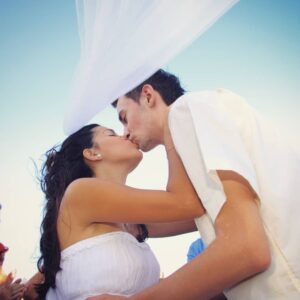 It wasn't till 2012 that a friend of Davor with a good camera and skills helped us recording our first 2 "decent" videos: "Toccata Violin Remix" and "The Last of the Mohicans Violin Remix". Then we decided to create a dedicated channel just for violin covers and started borrowing friends and family's cameras because we could still not afford one for us. 
On 2013 we got an opportunity to participate on a talent show in Spain, and because of the success our performance had we started receiving a lot of email inquiries for events. That's when we decided to move to Madrid and make a living from events and wedding performances. This is also when we changed our name to VioDance (Vio = Violin, Dance = the type of music we were mostly playing).
On 2014 we found out we could upload and sell our covers online thanks to a company called "Loudr". They would clear the needed copyrights and also upload our music to all the major platforms. This was a big opportunity to start earning some income from our work and start gearing up. We could finally get a decent camera, computer and cover some of the expenses from making videos.
About the same time, our violin services for events took off and we started getting international gigs, starting with Singapore. Over the next 8 years we played in Belgium, Denmark, Egypt, Germany, Hungary, Italy, Morocco, Nigeria, Portugal, Serbia and UK, and also all over the Spanish territory. 
Our YouTube subscriber count sky-rocketed (from our point of view, anyway) when our "Vikings" violin cover video went viral in 2018. That's when we decided to get even more serious and started planing our first album: "The Wedding Album, Vol. 1 (Piano & Violin)", and kept upgrading our audio and video recording gear.
In 2019, Becky's violin got featured in Dragon Age / Fallout composer Inon Zur's first album for Sony Masterworks "Into The Storm", in the track "Duel of Hearts" (you can listen to it here ). This album compiles a collection of songs and instrumentals inspired by the fantasy world of Dragon Age.
In 2020, with the global shutdown that we all experienced, we couldn't perform anymore in public, so we put all our efforts in recording covers and opened our Patreon profile to share more personal content with our audience. Also around that time, we decided it was finally time to have a "Lineage" of our own, and on March 2021 our baby Mia was born!